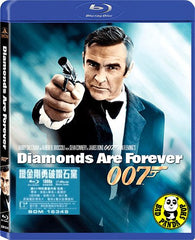 Region Coding: Region A (Locked)

Starring: 
Sean Connery
Lana Wood
Charles Gray
St. John Jill

Director:
Hamilton Guy

Audio Tracks:
DTS-HD Master Audio, Dolby Digital 5.1

Languages: 
English, Italian, Polish, Spanish, Thai, Russian, Czech, Hungarian

Subtitles:


English, Traditional Chinese,

Korean, Spanish, Thai, Bahasa (Indonesia), Portuguese, Italian , Greek, Bulgarian, Croatian, Czech, Hebrew, Hungarian, Icelandic, Polish, Romanian, Turkish, Russian, Slovene



Running Time:
120 minutes

Distributor:
MGM / Intercontinental Video Limited

Release Date:
12 Oct 2012

Synopsis:
Sean Connery is lured back to play the suave British agent 007. The wittier style of "Diamonds Are Forever" sets the pattern for many of the upcoming Roger Moore episodes. Large quantities of South African diamonds are being stolen but haven't found their way into the world market. It is James Bond's mission to discover who is stockpiling these diamonds and why. He discovers that Ernst Blofeld has constructed a giant laser generator, suspended in orbit around earth, that uses diamonds to intensity its energy causing nuclear warheads, rockets and submarines to spontaneously self-detonate. Blofeld intends to hold an international auction with nuclear supremacy going to the highest bidder. Bond pursues his arch enemy to his oil rig base off the California coast to prove that diamonds aren't just a girl's best friend.
More items to consider...