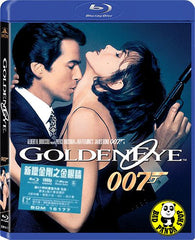 Region Coding: Region A (Locked)

Starring: 
Pierce Brosnan
Famke Janssen
Alexander Marshall
Scorupco Izabella

Director:
Martin Campbell

Audio Tracks:
DTS-HD Master Audio, Dolby Digital 5.1

Languages: 
English, Polish, Spanish, Thai, Russian, Czech, Hungarian

Subtitles:


English, Traditional Chinese,

Spanish, Thai, Bahasa (Indonesia), Portuguese, Italian , Bulgarian, Croatian, Czech, Estonian, Russian



Running Time:
130 minutes

Distributor:
MGM

Release Date:
11 Oct 2012

Synopsis:
James Bond is back in an adventure which is bigger, better and more explosive than ever before. It's packed with incredible stunts, glamorous locations, beautiful women and fast cars! Bond has a dangerous new enemy to face in his latest mission. Aided by the Russian underworld, his treacherous foe has stolen a top-secret helicopter and the lethal Soviet space weapon 'GoldenEye' with which he plans to obliterate the Western world. Only Bond can prevent the destruction in this heart-stopping race - which will leave you shaken and stirred.
More items to consider...