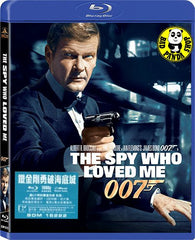 Region Coding: Region A (Locked)

Starring: 
Roger Moore
Richard Kiel
Barbara Bach
Curd Jurgens

Director:
Lewis Gilbert

Audio Tracks:
DTS-HD Master Audio, Dolby Digital 5.1

Languages: 
English,

Italian, Polish, Spanish, Thai, Russian, Czech, Hungarian



Subtitles:


English, Traditional Chinese,

Korean, Spanish, Thai, Bahasa (Indonesia), Portuguese, Italian , Greek, Bulgarian, Croatian, Czech, Hebrew, Hungarian, Icelandic, Polish, Romanian, Turkish, Russian, Slovene



Running Time:
126 minutes

Distributor:
MGM

Release Date:
12 Oct 2012

Synopsis:
From the death-defying opening that finds Agent 007 skiing straight off a 3,000-foot mountain precipice to the explosive finale aboard a supertanker, The Spy Who Loved Me is Bond at his exhilarating best! Not content with diving off mountain sides, Bond also launches one of O's cleverest cars straight underwater. The submersible Lotus sports car "equipped with sea-to-air underwater missiles" was actually driven by two divers wearing breathing apparatus travelling at 14 knots. Moore always considered this his favourite film, perhaps not least for the introduction of the metal-mouthed and seemingly indestructible Jaws, the only Bond villain ever to return (in Moonrakeo).
More items to consider...