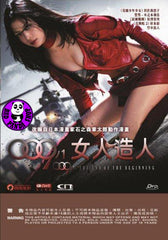 Region Coding: Region 3 (Locked)

Starring:
Mayuko Iwasa
Minehiro Kinomoto
Nao Nagasawa
Ryohei Abe
Kazutoshi Yokoyama
Mao Ichimichi
Shizuka Midorikawa
Minami Tsukui

Director:
Koichi Sakamoto

Audio Tracks: 
Stereo

Language: 
Japanese

Subtitles:
English, Traditional Chinese

Running Time: 
85 minutes

Distributor:
CN Entertainment Ltd. (HK)

Release Date:
17 Oct 2014

Synopsis:
In the near future, the world becomes divided between the Western and Eastern blocks. Mylene (Mayuko Iwasa) is a spy from the Western block. She sneaks into J country, which is a border area between the two areas and carries out an operation to expose human traffickers. While carrying out her mission, she meets a young immigrant man named Chris. After her mission is complete, she can't forget Chris. She gets a new mission.
More items to consider...