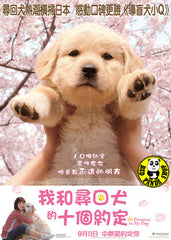 Region Coding: Region 3 (Locked)
Starring:
Tanaka Rena
Toyokawa Etsushi
Kase Ryo
Takashima Reiko

Director: 
Motoki Katsuhide

Audio Tracks: 
Dolby Digital 5.1

Languages: 
Cantonese, Japanese

Subtitles: 
English, Traditional Chinese

Running Time: 
96 minutes

Distributor:
CN Entertainment Ltd.

Release Date:
30 Oct 2008
Synopsis:
Akari Saito (Mayuko Fukuda) is a 14-year-old girl living in the city of Hakodate in Japan's northern prefectural island of Hokkaido. Secure in gentle and compassionate love of her father Yuichi (Etsushi Toyokawa), and mother Fumiko (Reiko Takashima) , Akari is leading a carefree childhood free of want. The only seed of dissatisfaction comes from having to watch her father, a promising surgeon at a university hospital, grow busier and busier at the cost of time spent with her.
And then one fateful day, Akari's ever cheerful and energetic mother falls ill and is hospitalized. Just as worry and loneliness begin to take their toll on her, a stray puppy wanders into her yard. Taking the puppy with her on a visit to her mother in the hospital, she receives approval to keep it. It is a female Golden Retriever with white markings on its paws. They name him "Socks." Before Akari leaves, her mother sits her down and carefully explains – by pretending to use the voice of Socks - the "10 Promises" Akari must keep to her new dog as her master.
More items to consider...