100 Yen Love 一百円之愛 (2015) (Region A Blu-ray) (English Subtitled) Japanese movie a.k.a. Hyaku yen no Koi
$24.99 USD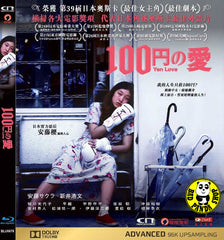 Region Coding: Region A (Locked)

Starring:
Sakura Ando
Hirofumi Arai
Shinichiro Matsuura
Miyoko Inagawa
Saori Koide
Shohei Uno
Tadashi Sakata
Yozaburo Ito
Osamu Shigematu
Toshie Negishi

Director:
Masaharu Take

Audio Tracks: 
Dolby TrueHD 7.1, Dolby Digital Plus 7.1

Languages: 
Japanese

Subtitles:
English, Traditional Chinese

Running Time: 
- minutes (TBA)

Distributor: 
CN Entertainment Ltd. (HK)

Release Date:
7 April 2016

Synopsis:
Ichiko (Sakura Ando) lives at her parents' home. She rarely hangs out with other people. Things change when her younger sister divorces and moves back with her child. Ichiko and her sister's relationship goes bad, causing Ichiko to move out and live alone. What brings happiness to Ichiko is to watch a middle-aged boxer (Hirofumi Arai) practice at a boxing gym. The boxing gym is located between the 100 yen shop where she works and her home.One day, Ichiko and the middle-aged boxer meet and they begin to live together.


movie trailer (Chinese subtitled)

More items to consider...