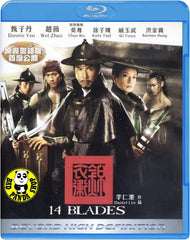 Region Coding:
Region Free


Starring: 
Donnie Yen 甄子丹
Vicki Zhao 趙薇
Wu Chun (Fahrenheit) 吳尊 (飛輪海)
Kate Tsui 徐子姍
Qi Yu Wu 戚玉武
Sammo Hung 洪金寶
Law Ka Ying 羅家英
Damian Lau 劉松仁
Chen Kuan Tai 陳觀泰
Wu Ma 午馬

Director: 
Daniel Lee 李仁港


Audio Tracks: 
Dolby TrueHD 7.1, DTS-HD Master Audio, Dolby Digital 5.1, LPCM

Languages: 
Cantonese 粵語, Mandarin 國語

Subtitles: 
English, Traditional Chinese 繁體中文字幕, Simplified Chinese 簡體中文字幕

Running Time: 
114 minutes
Distributor:
Universe Laser (HK)

Release Date:
14 April 2010

Synopsis:
Trained in clandestine combat from childhood, the Jinyiwei masters of the 14 Blades. Above the law and with a license to kill, they devoted their lives and lethal prowess to the service of the Emperor alone.

When the Imperial Court is taken over by evil eunuch JIA, the best of the Jinyiwei, QINGLONG is assigned to steal a list identifying those still loyal to the Emperor. Unbeknownst to Qinglong, the Jinyiwei have fallen under the control Jia, and during the mission he's betrayed and escapes with life.

Now as the most wanted man in the land Qinglong must seek out and rally the loyalists to rise against Jia and restore the Emperor to power.

In his way are the deadliest assassins in the land, his former brethren, the Jinyiwei.
More items to consider...