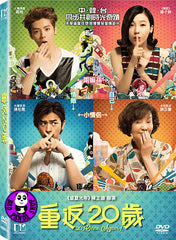 Region Coding: Region 3 (Locked)

Starring:
Luhan (EXO)
Bolin Chen
Yang Zi Shan
Grace Guei

Director:
Leste Chen

Audio Tracks: 
Dolby Digital 5.1

Languages: 
Mandarin

Subtitles:
English, Traditional Chinese

Running Time: 
129 minutes

Distributor:
Deltamac (HK)

Release Date:
19 March 2015

Synopsis:
"20 Once Again" follows the story of Shen Meng Jun (Grace Guei), a 70 year old widow who is mysteriously transformed back into her 20 year old self. Hilariously, while her beauty and brilliant youth shine, she shocks everyone she encounters with her sweet, yet curmudgeonly personality and vulgar language. Given the chance to accomplish her youthful dream of becoming a singer, she changes her name to Meng Li Jun (Yang Zi Shan) and unwittingly catches the eye of her own grandson, Xiang Qian Jin (Lu Han), and a music producer, Tan Xi Ming (Chen Bo Lin). Will she find true love and success in her second youth?


movie trailer (English subtitled)
More items to consider...