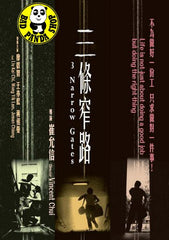 Region Coding: Region Free
Starring: 
Liu Kai Chi
Wong Yik Lam
Joman Chiang
Cheung Wing Hong
Tony Ho
Emme Wong
Director: 
Vincent Chui

Audio Tracks: 
Dolby Digital

Languages: 
Cantonese, Mandarin

Subtitles: 
English, Traditional Chinese

Running Time: 
105 minutes

Distributor:
YEC (hk)

Release Date:
20 Aug 2010

Synopsis:
It has been ten years since the historical handover of Hong Kong from Britain to China. However, Hong Kong's progress toward democracy is still dissatisfactory today while people in the society tend to play safe and be indifferent to the political environment. 6277 is a good-for-nothing who was kicked out from the police force due to his addiction to gambling and the subsequent debts, Eva is a green and aggressive woman newspaper reporter who is eager for promotion. Mr Ma is a pastor who is reproached for hosting a programme on social commentary on the radio. The three have been unrelated until now a murder in a law firm links them together, and leads them to unmask a scandal about some secret deals between the dominating business tycoons and the governments in Hong Kong and Mainland China. The Bible says, "Because strait is the gate, and narrow is the way, which leadeth unto life, and few there be that find it (Mathew 7:14)." It is a long and difficult road to truths and justice. Could the three protagonists be conscious and determined enough to persevere in revealing the truth while people around them are either ignorant or indifferent?
More items to consider...