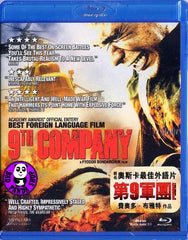 Region Coding: Region A (Locked)

Starring: 
Artur Smolyaninov
Aleksey Chadov
Konstantin Kryukov

Director:
Fedor Bondarchuk

Audio Tracks: 
English DTS-HD Master Audio 5.1


Dolby Digital 5.1

Languages: 
English, Russian



Subtitles:


English, Traditional Chinese

Running Time: 
140 minutes

Distributor:


Vii Pillars Entertainment



Release Date:
22 May 2012

Synopsis:
9th Company is credited as being the first real post-Soviet era war film. Not anti-war, not militarist - but a genuine war film. Not about the glories of Russian weapons, but about the glory of those who will fight with them down to their last bullets. The film won the NIKA (Russian Oscar®) for Best film and marks the feature directorial debut of Fyodor Bondarchuk, son the renowned director Sergei Bondarchuk ("War and Peace", 1968).

Based on real-life events, 9th Company recounts a year in the shared lives of a group of young soldiers recruited to serve in Afghanistan for the final year of the Soviet conflict. it is the poignant story of the unit's dedication to both their country and each other during their final valiant defense of the Height 3234....a futile battle that ravaged the forgotten company who fought on, unaware the war had ended.

More items to consider...