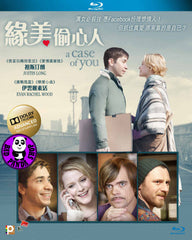 Region Coding: Region A (Locked)

Starring:
Evan Rachel Wood
Sam Rockwell
Peter Dinklage
Busy Philipps
Brendan Fraser
Sienna Miller

Director:
Kat Coiro

Audio Tracks: 
Dolby TrueHD Advanced 96k upsampling, Dolby Digital EX

Languages: 
English

Subtitles:
English, Traditional Chinese, Simplified Chinese

Running Time: 
- minutes (TBA)

Distributor:
Panorama (HK)

Release Date:
10 Oct 2014

Synopsis:
A young writer (Justin Long) woos a cute and quirky barista (Evan Rachel Wood) by studying her Facebook profile and making himself into the man of her dreams. When she falls for his alter ego, he must keep up the act or risk losing her.
More items to consider...