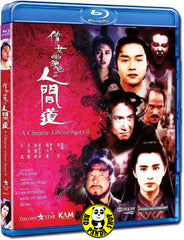 Region Coding: Region A (Locked)
Starring: 
Leslie Cheung 張國榮
Joey Wang 王祖賢
Michelle Reis 李嘉欣
Wu Ma 午馬
Waise Lee 李子雄

Director: 

Ching Siu Tung 程小東

Producer:
Tsui Hark 徐克

Audio Tracks: 
Dolby TrueHD 7.1, Dolby Digital EX 6.1, THX Surround EX

Languages: 
Cantonese 粵語, Mandarin 國語, Thai

Subtitles: 
English, Traditional Chinese

Running Time: 
103 minutes
Distributor:
Kam & Ronson Enterprises Co., Ltd.

Release Date:
16 Dec 2016

Synopsis:
The protagonist Lin (Leslie Cheung) is put into prison innocently after he has left his good friend Yin(Wo Ma). The former meets a learned prisoner, Tso Kot (Ku Feng) who helps him to escape from prison he then meets a young and witty taoist Monk Chi Chau (Jacky Cheung). The two big house id horrifying and a giant corpse lives there. Lin and Chi Chau are attacked by a group of ghosts there and finally reveal that they are actually human beings who are preparing to save the innocent politician Lau from imprisonment. Fu has 2 daughters, Ching Fung and Yuet Chi (Michelle Ries). Lin Finds that Ching Fung looks alike to his former lover. Siu Seen and resumes her life as Ching Fung. Both Ching Fung and Yuet Chi love Lin...
More items to consider...