A Chinese Ghost Story Series Boxset (Region 3 DVD) (English Subtitled) Digitally Remastered
$44.99 USD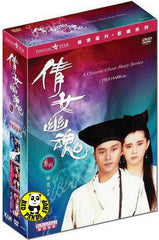 Region Coding: Region 3 (Locked)
Starring: 
Leslie Cheung
Joey Wang
Wu Ma
Tony Leung Chiu Wai
Jacky Cheung
Michelle Reis


Director: 

Ching Siu Tung


Producer:
Tsui Hark

Audio Tracks: 
Dolby Digital EX 6.1, DTS ES 6.1

Languages: 
Cantonese, Mandarin

Subtitles: 
English, Traditional Chinese

Distributor:
Kam & Ronson Enterprises Co., Ltd.

Release Date:
23 Nov 2012

Synopsis:
A Chinese Ghost Story (1987):
Director: Tsui Hark
Running Time: 95 minutes
A rainstorm compelled Ling Choi Sin (Leslie Cheung) to trespass Lan Po Temple for a night on his way to Kwok Pak Village collecting debts.  In the middle of the night, Ling is awakened by the bewitching music played by the feminine and attractive Lit Siu Seen(Wong Tsu Hsien). Ling is unaware that the resident Taoist Monk Yin Chek Hsia (Wo Ma) has impeded Lit's murder are madly in love and decided to run away from the monastery...
A Chinese Ghost Story 2 (1990):
Director: Ching Siu Tung
Running Time: 102 minutes
The protagonist Lin (Leslie Cheung) is put into prison innocently after he has left his good friend Yin(Wo Ma). The former meets a learned prisoner, Tso Kot (Ku Feng) who helps him to escape from prison he then meets a young and witty taoist Monk Chi Chau (Jacky Cheung). The two big house id horrifying and a giant corpse lives there. Lin and Chi Chau are attacked by a group of ghosts there and finally reveal that they are actually human beings who are preparing to save the innocent politician Lau from imprisonment. Fu has 2 daughters, Ching Fung and Yuet Chi (Michelle Ries). Lin Finds that Ching Fung looks alike to his former lover. Siu Seen and resumes her life as Ching Fung. Both Ching Fung and Yuet Chi love Lin...
A Chinese Ghost Story 3 (1991):
Director: Ching Siu Tung
Running Time: 108 minutes
One stormy night, a wise High Priest and his student, Fong, pass by the orchid Temple and realise it is haunted. Here, Fong encounters two lady demons, the seductive Lotus and her hated sister, Butterfly. Although Fong knows his Master wants to capture these evil spirits, he finds himself attracted to the Ghost and allows them to go free. The monks stay at the Temple is prolonged due to Fong carelessly misplacing their valuable Talisman, the Gold Suddna. During a trip to the courrupt local town, the High Priest meets Yin by chance and series of misunderstandigns evolve...
More items to consider...