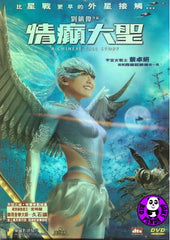 Region Coding: Region 3 (Locked)

Starring: 
Charlene Choi
Nicholas Tse
Wilson Chen
Fan Bing Bing

Audio Tracks: 
DTS 5.1 Surround
Dolby Digital 5.1

Languages: 
Cantonese, Mandarin

Subtitles: 
English, Traditional Chinese, Simplified Chinese

Running Time: 
103 minutes

Distributor:
Joy Sales

Release Date:
10 Feb 2006

Synopsis:

Tang monk Tripitaka (Nicholas Tse) and his three disciples: Monkey King Sun Wukong, Pig Monk Zhu Wuneng, and Sand Monk Sha Wujing arrive to a hero's welcome in Shache city. Little do they know that ahead of them lays Tripitaka's most arduous challenge before he achieves deification. During their stay in the city the three disciples are captured by evil tree spirits. As Tripitaka tries to find a way to save them he meets an ugly lizard imp, Meiyan (Charlene Choi), who falls in love with him at first sight and devotes herself to him. The story is full of monsters and creatures of unknown origins, and also the beautiful Princess Xiaoshan (Fan Bingbing) and her army. As she journeys to earth, her path crosses Tripitaka's, and she vows her help, prompting him to leave with the princess. Meiyan is heartbroken. She picks a fight with Xiaoshan, and although she loses, she discovers her own identity as a galactic warrior...
More items to consider...