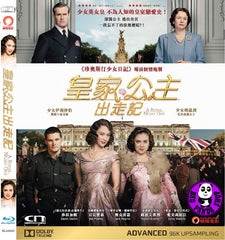 Region Coding: Region A (Locked)

Starring:
Sarah Gadon
Emily Watson
Jack Reynor
Rupert Everett
Roger Allam
Ruth Sheen

Director:
Julian Jarrold

Audio Tracks: 
Dolby TrueHD 5.1, Dolby Digital 5.1

Languages: 
English

Subtitles:
English, Traditional Chinese

Running Time: 
97 minutes

Distributor: 
CN Entertainment Ltd. (HK)

Release Date:
17 Dec 2015

Synopsis:
On V.E. Day in 1945, as peace extends across Europe, Princesses Elizabeth and Margaret are allowed out to join the celebrations. It is a night full of excitement, danger and the first flutters of romance.


 
movie trailer (Chinese subtitled)
More items to consider...