A Story of Yonosuke (2013) 那年遇上世之介 (Region A Blu-ray) (English Subtitled) Japanese movie a.k.a Yokomichi Yonosuke
$18.99 USD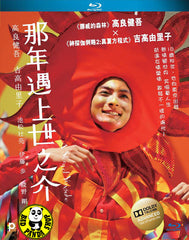 Region Coding: Region A (Locked)

Starring:
Kengo Kora
Yuriko Yoshitaka
Sosuke Ikematsu
Gou Ayano
Ayumi Ito
Aki Asakura
Mei Kurokawa
Tasuku Emoto
Aimi Satsukawa
Keiko Horiuchi

Director:
Shuichi Okita

Audio Tracks: 
Dolby TrueHD Advanced 96k Upsampling, PCM 5.1

Languages: 
Japanese

Subtitles:
English, Traditional Chinese, Simplified Chinese

Running Time: 
160 minutes

Distributor:
Panorama (HK)

Release Date:
27 Sept 2013

Synopsis:
Set in the 1980's, Yonosuke Yokomichi (Kengo Kora) is a college student, with a warm heart, from the port city of Nagasaki. His girlfriend Shoko Yosano (Yuriko Yoshitaka) is the daughter of a company president.


More items to consider...