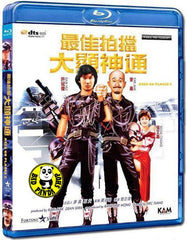 Region Coding:
Region A (Locked)


Starring: 
Sam Hui 許冠傑
Sylvia Chang 張艾嘉
Karl Mak 麥嘉
Raymond Wong 黃百鳴
Dean Shek 石天
Cho Charlie 曹查理
Tsui Hark 徐克
Walter Cho 曹逹華
Kurata Yasuaki
Chan Lap Pin
Sze Ming
Han Guo Cai

Director: 

Eric Tsang
曾志偉


Audio Tracks: 
DTS-HD Master Audio 7.1, Dolby Digital EX 6.1, THX Surround EX

Languages: 
Cantonese, Mandarin

Subtitles: 
English, Traditional Chinese

Running Time: 
102 minutes
Distributor:
Kam & Ronson Enterprises Co., Ltd.

Release Date:
15 June 2012

Synopsis:
King Kong was attacked by the robot – Black Knight I which was sent by the Italian Mafia to ovenge the capture of White Gloves. He also hired an internationally notorious killer Black Gloves to kill King Kong as well as diamond transfer deal with the underworld. King Kong join forces with the police to capture Black Gloves who sends Black Knight II to attack….
More items to consider...