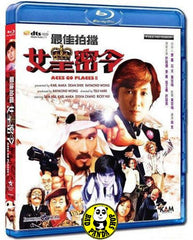 Region Coding:
Region A (Locked)


Starring: 
Sam Hui 許冠傑
Sylvia Chang 張艾嘉
Karl Mak 麥嘉
Lowell Lo 盧冠廷
Cho Charlie 曹查理
Walter Cho 曹逹華
John Sham 岑建勳
Xi Gua Bao
Sze Ming
Yu Chi Ming
Tsui Hark

Director: 

Tsui Hark 徐克


Producer: 
Raymond Wong

Audio Tracks: 
DTS-HD Master Audio 6.1, 7.1

Languages: 
Cantonese, Mandarin

Subtitles: 
English, Traditional Chinese

Running Time: 
96 minutes
Distributor:
Kam & Ronson Enterprises Co., Ltd.

Release Date:
19 June 2012

Synopsis:
King Kong (Sam Hui) is commissioned by a man who claims to be Mr. Bond, special agent from the British Secret Service to recover for the Queen precious stones stolen from her crown which are now in Hong Kong. Back in Hong Kong, a Secret Service man from the Bond Street Headquarters, Mr. Tom Collins, has just arrived to find out a gang of notorious international crooks led by Mr. Bond. After King Kong has carried out his mission successfully for Mr. Bond, he is summoned by the Governor to assist Collins in retrieving the stolen goods and catch Mr. Bond's gang.
More items to consider...