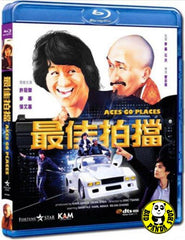 Region Coding:
Region A (Locked)

Starring: 
Sam Hui 許冠傑
Sylvia Chang 張艾嘉
Dean Shek 石天
Karl Mak 麥嘉

Director: 

Eric Tsang
曾志偉


Audio Tracks: 
DTS-HD Master Audio 6.1, 7.1

Languages: 
Cantonese, Mandarin

Subtitles: 
English, Traditional Chinese

Running Time: 
94 minutes
Distributor:
Kam & Ronson Enterprises Co., Ltd.

Release Date:
24 April 2012

Synopsis:
The famous thief, King Kong, has stolen a bag of diamonds from a group of gangsters, and asks his good friend Ah Chuen to look after it. After Ah Chuen has hidden the diamonds in a safe place, he is kidnapped by his enemy, Mad Max, and his fate remain unknown. While the gangsters sends White Glove to find out where the diamonds are the police invite Bald-head Detective to work with Superintendent Ho to solve this case. Actually, Superintendent Ho possesses more courage than wit, but Bald-head Detective possesses both qualities. He forces King Kong to admit of his theft and they follow Ah Chuen's hints to locate the diamonds. However, they fall into Mad Max's trap, but are saved by Superintendent Ho. Finally, King Kong and Bald-head Detective succeed in finding the diamonds, but they are caught by White Glove. They manage to let off a small bomb and escape. White Glove shoots at Bald-head Detective and wounds him. King Kong chases after white glove until he falls into the sea, King Kong regrets that the detective is seriously wounded. In fact, he isn't and succeeds in deceiving King Kong again.
More items to consider...