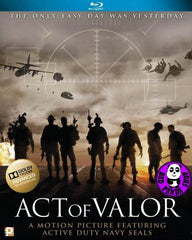 Region Coding: Region A (Locked)

Starring: 
Alex Veadov
Roselyn Sanchez
Nestor Serrano

Director:
Mike McCoy, Scott Waugh

Audio Tracks:
English Dolby TrueHD 7.1 Advanced 96k Upsampling
English Dolby Digital EX
English THX Surround EX

Subtitles:


English, Traditional Chinese

Running Time:
110 minutes

Distributor:
Panorama HK Distributions

Release Date:
27 Jul 2012

Synopsis:
Go "down range" with real, active-duty Navy SEALs in Act Of Valor, the adrenaline-fueled action-adventure that inserts you into the heart of the battle, alongside America's best and bravest. When a covert mission to rescue a kidnapped CIA operative uncovers a chilling plot, elite, highly-trained U.S. SEAL teams speed to hotspots around the globe, racing against the clock to stop a deadly terrorist attack. Pulse-pounding combat sequences, cutting-edge battlefield technology and raw emotion fuel this unprecedented blend of real-world heroism and original filmmaking, a thrilling tribute to the skills, courage and tenacity of the world's most revered warriors.



More items to consider...