After This Our Exile (2006) (Region Free DVD) (English Subtitled) Director's Cut Special Edition
$25.99 USD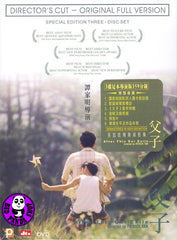 Region Coding: Region Free

Starring: 
Aaron Kwok
Charlie Yeung
Ian Iskandar Gouw
Kelly Lin

Audio Tracks: 
Dolby Digital 5.1
Dolby Digital 2.0

Languages: 
Cantonese

Subtitles: 
English, Traditional Chinese, Simplified Chinese

Running Time: 
159 minutes

Distributor:
Panorama HK Distributions

Release Date:
26 May 2007

Synopsis:
A part-time father but a full-time gambler...he had the looks, combined with his friends' respect. But that was a long time ago, before the gambling started. It's all gone, except for one thing: his smart, loyal and doting young son. In spite of fearing his father's violence towards his mother, the boy reveals her secret plan to leave them both. A severe beating ends with the boy's mother locked up. He eventually ends up alone with his father - forced to help pay gambling debts by becoming a petty thief. His resistance is futile, and he eventually ends up in a juvenile detention centre. During a visit, the boy leaves his father with a missing ear in a violent attack.A decade later, the now grown-up son returns to his hometown. As he walks the empty streets, he sees a man in the distance that might just be his father…

3 Disc Set.

Disc 1 and Disc 2 contain a HD remastered version of the movie.

English-subtitled extras and special features on Disc 3 (DVD-5) include:

-Dialogue between Patrick Tam and Hong Kong renowned critic Law Kar
-Exclusive interview with Aaron Kwok
-Making-of features
-Poster and photo gallery
-Theatrical trailers
-Director Patrick Tam's biography and filmography
-A collector's booklet

More items to consider...