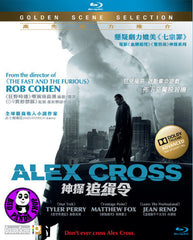 Region Coding: Region A (Locked)

Starring:
Tyler Perry
Matthew Fox
Rachel Nichols
Jean Reno
Giancarlo Esposito
Edward Burns

Director:
Rob Cohen

Audio Tracks: 
Dolby TrueHD Advanced 96k Upsampling, Dolby TrueHD, Dolby Digital True-HD 7.1 Surround, Dolby Digital EX

Languages: 
English

Subtitles:
English, Traditional Chinese, Simplified Chinese

Running Time: 
- minutes (TBA)

Distributor:
Panorama (HK)

Release Date:
05 July 2013

Synopsis:
Alex Cross follows the young homicide detective/psychologist (Tyler Perry), from the worldwide best-selling novels by James Patterson, as he meets his match in a serial killer (Matthew Fox). The two face off in a high-stakes game of cat and mouse, but when the mission gets personal, Cross is pushed to the edge of his moral and psychological limits in this taut and exciting action thriller.
More items to consider...