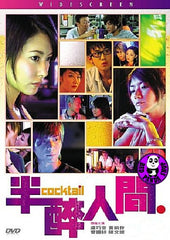 Region Coding: Region 3 (Locked)

Starring:  
Candy Lo
Race Wong
Endy Chow

Director:
Herman Yau

Audio Tracks: 
Dolby Digital 5.1

Languages: 
Cantonese, Mandarin

Subtitles: 
English, Traditional Chinese, Simplified Chinese

Running Time: 
90 minutes

Distributor:
Universe Laser

Release Date:
13 Mar 2006

Synopsis:

Half Man Zone, a bar where love, friendship and life all come to pass under the watchful eye of owner Candy and her trusty bartender, Paul. Romantic complications are stirred up when patrons begin to spill their lonely heart stories. Cocktail is a poignant look at life and love and the struggle of people to find emotional connections in this word.
More items to consider...