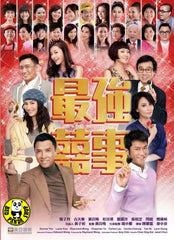 Region Coding: Region Free
Starring: 
Donnie Yen
Louis Koo
Sandra Ng
Raymond Wong
Carina Lau
Cecilia Cheung
Ronald Cheng
Lynn Xiong
Chapman To
Angelababy
Fiona Sit

Audio Tracks: 
DTS 5.1
Dolby Digital 5.1

Languages: 
Cantonese, Mandarin

Subtitles: 
English, Traditional Chinese, Simplified Chinese

Running Time: 


103 minutes

 

Distributor:
Mei Ah

Release Date:
30 Nov 2011

Synopsis:


Sammy (Louis Koo) is one of the most popular beauticians in town, but when a billionaire's girlfriend recruits him to be the CEO of her cosmetic product company, the all-female staff is reluctant to work with him. To promote the company's brand name, Sammy sets up a sales counter at a high-end shopping mall and enlists his friend Keung (Donnie Yen), rumoured to be the most powerful makeup artist in the universe, to help manage it. Keung effortlessly becomes the untouchable top salesman thanks to his thorough understanding of the female mindset, yet he still has a hard time keeping up with his enigmatic lover, Moni (Carina Lau). Meanwhile, to protect his professional image, Sammy is forced to play matchmaker for his assistant Kit (Cecilia Cheung) and rich playboy Slippery (Chapman To) despite his secret admiration for her...



More items to consider...