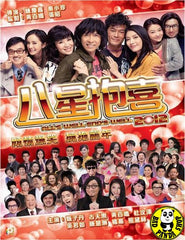 Region Coding: Region Free

Starring: 
Donnie Yen
Louis Koo
Sandra Ng
Kelly Chen
Raymond Wong
Joey Yung
Ronald Cheng
Lynn Xiong
Chapman To

Audio Tracks: 
Dolby Digital 6.1 EX
THX Surround

Languages: 
Cantonese, Mandarin

Subtitles: 
English, Traditional Chinese

Distributor:
Panorama HK Distributions

Synopsis:
Carl (Donnie Yen) is assigned to help has-been pop star Chelsia (Sandra Ng) to revive her career. Ken (Louis Koo) becomes the model for famous photographer Julie (Kelly Chen). Cynical romance novel writer Hugo (Chapman To) has to guide blind girl Charmine (Lynn Xiong), who has never dated, in her first taste of love. Lawyer Richard (Raymond Wong) is sent to play daddy to orphaned heiress Cecilia and must help her find Mr. Right within a month. By offering help to the ladies, these four gentlemen eventually find the missing pieces of their lives as well...

More items to consider...