Alvin And The Chipmunks: The Road Chip 花鼠明星俱樂部:開心大唱遊 Blu-Ray (2015) (Region A) (Hong Kong Version)
$37.99 USD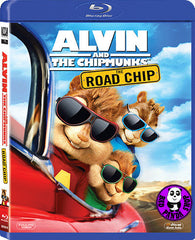 Region Coding: Region A (Locked)

Starring:
Animation

Director:
Walt Becker

Audio Tracks: 
DTS-HD Master Audio 7.1, Dolby Digital 5.1

Languages: 
English, Cantonese, Korean, Portuguese, Bulgarian, Croatian, Vietnamese, Thai

Subtitles:
English, Traditional Chinese, Korean, Indonesian, Portuguese, Bulgarian, Malay, Vietnamese, Arabic, Thai

Running Time: 
- minutes (TBA)

Distributor: 
20th Century Fox / Intercontinental Video Limited

Release Date:
14 April 2016

Synopsis:
Hit the road with your favorite fur balls in the funniest Alvin and the Chipmunks ever! Alvin, Simon and Theodore race to Miami on a wild road trip but their jaunt soon takes a nutty detour, leading to hilarious highway hijinks and music-packed adventures across the country.


movie trailer (Cantonese Dubbed)

More items to consider...