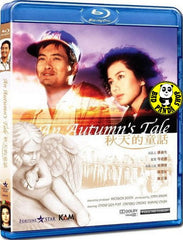 Region Coding: Region A (Locked)
Starring: 
Chow Yun Fat 周潤發
Cherie Chung 鍾楚紅
Danny Chan 陳百強

Director: 

Mabel Cheung 張婉婷

Audio Tracks: 
Dolby TrueHD 7.1, Dolby Digital 6.1

Languages: 
Cantonese, Mandarin

Subtitles: 
English, Traditional Chinese

Running Time: 
98 minutes
Distributor:
Kam & Ronson Enterprises Co., Ltd.

Release Date:
31 Dec 2010

Synopsis:
Beautiful and spoiled Lee Kay goes to college in New York City and also to visit her boyfriend Dickson. The one to meet her at the airport is a distant relative Boat Head. Unluckily, Kay is shocked to find out that Dickson has a new girlfriend. In her depression she begins to cloister up herself. One day at home, Kay is saved by Boat Head from her suicide Under Boat Head's care and guidance, Kay gradually adopts herself to new surounding. An autumn approach, Kay accepts a new job in another city. Boat Head comes to see her off. Neither of them makes explicit their feelings, but they know they will always have a beautiful memory....
More items to consider...