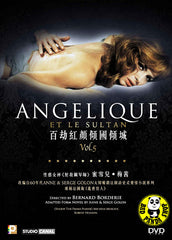 Region Coding: Region 3 (Locked)

Starring:
Michele Mercier
Jean Pascal Bongard
Robert Hossein
Roger Pigaut
Renato De Carmine
Jacques Santi

Director:
Bernard Borderie

Audio Tracks: 
Dolby Digital 2.0

Languages: 
French

Subtitles:
English, Traditional Chinese

Running Time: 
93 minutes

Distributor:
Panorama (HK)

Release Date:
03 June 2011

Synopsis:
Angelique, a beautiful woman who was forced t marry the ugly Joffrey de Peyrac to pay her father's debt. Despite his appearance, she is touched by his noble soul and soon falls in love with him. Though, their happinessis at stake as Louis XIV wishes to make her his mistress, he sends Joffrey in prison and burns him to death...After a short reunion with her husband who indeed is not dead, Angelique is kidnapped. She is then sold to the Sultan of Morroco, a man in search of the prettiest women on earth. After rejecting his violent advances, Angelique is whipped and held prisoner in the harem. Joffrey, her husband, back on his wife's trail, proposes a deal to the Sultan : in exchange for the release of Angelique, he will give him the secret which will enable him to turn peat into gold. Meanwhile however, Angelique has been set free by two gentlemen and runs away to join her husband.
More items to consider...