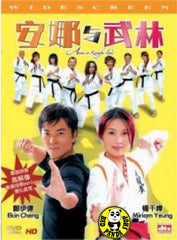 Region Coding: Region Free
Starring: 
Miriam Yeung
Ekin Cheng
Denise Ho

Audio Tracks: 
DTS 5.1
Dolby Digital 5.1

Languages: 
Cantonese, Mandarin

Subtitles: 
English, Traditional Chinese, Simplified Chinese

Running Time: 
97 minutes

Distributor:
Universe Laser

Release Date:
27 Feb 2004

Synopsis:


When the unofficial Japanese branch of the shaolin Temple is invited to a kung fu exhibition in Hong Kong, the branch's head monk decides to send his daughter (and Hollywood kung fu star wannabe) Anna instead. Thinking that this will be her perfect chance to become famous, Anna gladly accepts the invitation, only to realize that she's not the only one that has the American dream. When Anna loses a film audition the day before the exhibition, she vows to perfect her kung fu and defeat her competitors...



More items to consider...