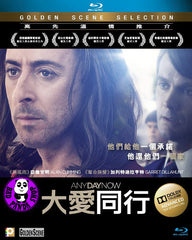 Region Coding: Region A (Locked)

Starring:
Alan Cumming
Garret Dillahunt
Isaac Leyva
Frances Fisher
Gregg Henry
Chris Hulkey

Director:
Travis Fine

Audio Tracks: 
Dolby TrueHD Advanced 96K Upsampling, Dolby Digital EX

Language: 
English

Subtitles:
English, Traditional Chinese, Simplified Chinese

Running Time: 
98 minutes

Distributor:
Panorama (HK)

Release Date:
14 Feb 2014

Synopsis:
Inspired by a true story from the late 1970s and touching on legal and social issues that are as relevant today as they were 35 years ago, ANY DAY NOW Is a powerful tale of love, acceptance and family. When a teenager with Down Syndrome is abandoned by his mother, a gay couple takes him in and becomes the loving family he's never had. But when their unconventional living arrangement is discovered by authorities, the men are forced to fight a biased legal system to save the life of the child they have come to love as their own.


movie trailer (Chinese subtitle)

More items to consider...