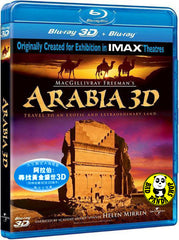 Region Coding: Region A (Locked)

Audio Tracks:
DTS-HD Master Audio, DTS Digital 5.1

Languages:
English, Italian, Portuguese, Spanish, Russian

Subtitles:
English, Traditional Chinese, Spanish, Portuguese, French, German, Portuguese, Thai, Italian

Running Time:
- minutes (TBA)

Distributor:
Universal / Intercontinental Video Ltd. (IVL) HK

Release Date:
19 June 2012

Synopsis:
From the Academy Award®-nominated producers of Everest and Grand Canyon Adventure comes an all-new experience about the extraordinary culture and history of Arabia. With breathtaking cinematography, go deep into the heart of this exotic land to experience the great mystique of Arabia. Like riding a magic carpet, you will discover the lost city of Madain Saleh and explore its ancient tombs, travel along the early frankincense trade route, confront a wild desert sandstorm, and dive among the gorgeous coral reefs and ancient shipwrecks of the dazzling Red Sea. Plus, in a series of stunning time-lapse images, join the largest single human gathering on Earth for an incredible pilgrimage. Narrated by Academy Award-winner Helen Mirren, this powerful and surprising tour de force offers a deeper understanding of a fascinating culture and way of life that has largely remained hidden, until now.
This Blu-ray set contains both the 3D version and the 2D version. To play the 3D version, you need a 3D Blu-ray player and a 3D compatible display that supports 3D glasses (glasses are not included for this item).
More items to consider...