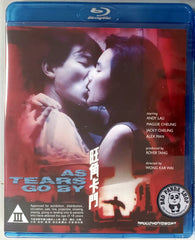 Region Coding: Region Free
Starring: 
Andy Lau 劉德華
Maggie Cheung 張曼玉
Jacky Cheung 張學友
Alex Man Chi-Leung 萬梓良

Director: 

Wong Kar Wai 王家衛

Audio Tracks: 
Dolby Digital 2.0, Dolby Digital 5.1, DTS Digital Surround

Languages: 
Cantonese 粵語, Mandarin 國語

Subtitles: 
English, Traditional Chinese 繁體中文字幕, Simplified Chinese 簡體中文字幕, Japanese 日語

Running Time: 
88 minutes
Distributor:
Media Asia Film

Release Date:
Sept 2023

Synopsis:
Though as gritty as any 80's Hong Kong gangster picture, As Tears Go By is a watershed film heralding one of the most auspicious directorial debuts in international cinema, Wong Kar-Wai's visually stunning, tough and romantic 1988 first feature.
Already stretched to breaking in a tug of war between Triad bosses and his loose cannon partner, Wah (Andy Lau), a rising star in the HK underworld, finds himself saddled with beautiful, ailing country cousin Ngor. As an escalating test of wills with a stubborn debtor explodes into bloodshed and a mob turncoat instigates a ruthless police crackdown, Wah's growing fascination with Ngor becomes his last chance for escape from a violent past andia dubious future.
More items to consider...