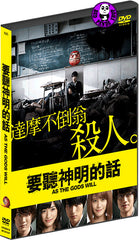 Region Coding: Region 3 (Locked)

Starring:
Ryunosuke Kamiki
Mio Yuki
Sota Fukushi
Hirona Yamazaki
Shota Sometani
Nao Omori
Lily Franky

Director:
Miike Takashi

Audio Tracks: 
Dolby Digital 5.1, Dolby Digital 2.0 (stereo)

Languages: 
Japanese

Subtitles:
English, Traditional Chinese

Running Time: 
117 minutes

Distributor: 
NeoFilms

Release Date:
4 June 2015

Synopsis:
Shun Takahata is an ordinary high school student leading a boring life. His life long friend is Ichika Akimoto. One day, a teacher's head explodes in class. Shun Takahata and his classmates are forced to play a game of death without knowing who, why or how.


movie trailer (English & Chinese subtitles)

More items to consider...