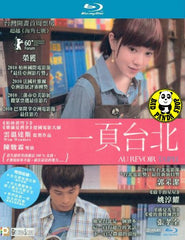 Region Coding: Region Free
Starring: 
Amber Kuo
Jack Yao
Joseph Chang
Tony Yang
Lawrence Ko
Jack Kao
Zeng Peggy
Director: 
Chen Arvin

Audio Tracks: 
Dolby TrueHD, Dolby Digital 2.0

Languages: 
Mandarin

Subtitles: 
English, Traditional Chinese

Running Time: 
85 minutes

Distributor:
Panorama HK Distributions

Release Date:
18 March 2011

Synopsis:
A brokenhearted young man from Taipei yearns to be with his girlfriend, who has left for Paris. He spends his days working at his parents' noodle restaurant and his nights trying to learn French at the local bookstore, where he meets Susie, a sweet but lonely girl who works there. Afraid of losing his girlfriend, and in need of money to get to Paris, he accepts a dubious offer from a local gangster to deliver a mysterious package to Paris. It's the beginning of a wild night for Kai, at the end of which he realizes that leaving both Susie and Taipei will only take him further away from true love.
More items to consider...