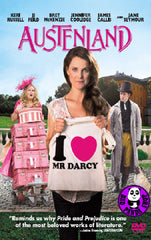 Region Coding: Region A (Locked)

Starring:
Keri Russell
JJ Feild
Jennifer Coolidge
Bret McKenzie
James Callis
Jane Seymour

Director:
Jerusha Hess

Audio Tracks: 
DTS-HD Master Audio 5.1, Dolby Digital 5.1

Language: 
English, French, Spanish, Thai

Subtitles:
English, Traditional Chinese, Korean, French, Portuguese, Thai

Running Time: 
- minutes (TBA)

Distributor:
Sony / Intercontinental Video Ltd. (IVL) HK

Release Date:
21 Jan 2014

Synopsis:
Jane Hayes's (Keri Russell) adoration of all things Jane Austen is complicating her love life. Determined to be the heroine of her own story, Jane spends her life savings on a trip to Austenland, an eccentric resort where guests experience complete immersion in the Regency era. Armed with her bonnet, corset and needlepoint, Jane strives to avoid spinsterhood … but has a difficult time determining where fantasy ends and real life—and maybe even love—begins. Jennifer Coolidge (Legally Blonde) and Jane Seymour (Wedding Crashers) also star in this charming romantic comedy.
More items to consider...