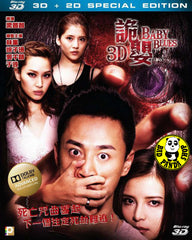 Region Coding: Region Free

Starring:
Raymond Lam
Janelle Sing Kwan
Kate Tsui
Karena Ng Chin Yu
Lo Hoi Pang
Irene Wan

Director:
Leung Po Chi

Audio Tracks: 
Dolby TrueHD Advanced 96k upsampling

Language: 
Cantonese, Mandarin

Subtitles:
English, Traditional Chinese, Simplified Chinese

Running Time: 
- minutes (TBA)

Distributor:
Panorama (HK)

Release Date:
20 Dec 2013

Synopsis:
- (TBA)


This Blu-ray set contains both the 3D version and the 2D version. To play the 3D version, you need a 3D Blu-ray player and a 3D compatible display that supports 3D glasses (glasses are not included for this item).


More items to consider...