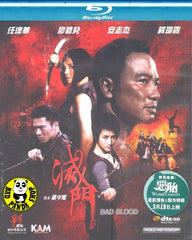 Region Coding: Region Free
Starring: 
Simon Yam 任達華
Andy On 安志杰
Eddie Cheung
Bernice Liu
Chris Lai
Pinky Cheung
Chan Wai Man
Xiong Xin Xin
Lo Wai Kwong
Jiang Lu Xia
Chun Yam Mi
Wong Tin Lam

Director: 

Dennis Lau
Action Director: 
Li Zhong Zhi

Audio Tracks: 
DTS-HD Master Audio, Dolby Digital 5.1

Languages: 
Cantonese, Mandarin

Subtitles: 
English, Traditional Chinese, Simplified Chinese

Running Time: 
95 minutes
Distributor:
Kam & Ronson Enterprises Co., Ltd.

Release Date:
09 March 2010

Synopsis:
The boss of Hong Kong Triad Organization "Tung Luen Shun", ANDY (Siu Fai CHEUNG - Election I&II/Fatal Move/Vengeance) was arrested and executed for smuggling counterfeit Renminbi in mainland China. With the boss removed, "Tung Luen Shun" was in a critical stage which a new leader had to be appointed fast. The great sum of Andy's estate also caused a major conflict among the Triad family members. Mysterious murders followed, causing deaths of many leading members of the gang. An evil plot was set to seize control and possession of "Tung Luen Shun". Who's the mastermind behind all these killings! The arrogant strong man, Funky (Simon YAM - Lara Croft Yomb Raider: The Cradle of Life/Election I&II/Fatal Move/Vegeance)... the seemingly gentle daughter of the family, AUDREY (Bernice LIU - King of Fighters)... the quiet and deformed warrior, CALF (Andy On - Black Mask/Mad detective)... the greedy senior members, HUNG (Kenneth Low - Police Story II/The Myth), KONG(Xin Xin XIONG - Once upon a time in China) and Zen (Wai Man Chan - A Joruney West)... the naive younger brother... all the other wives of the former boss... or the mysterious mute girl, Dumby (Lu Xia Jiang - Coweb)?

Fights after fights; killing would not stop until the last member of "Tung Luen Shun" was put away. Who is the ruthless murderer! Not until the end would you find out who could kill them all!
More items to consider...