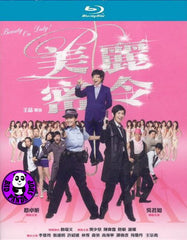 Region Coding: Region Free

Starring:
Sandra Ng
Wong Jing
Charlene Choi
Jim Chim
Fan Siu Wong
Cheung Tat Ming
Hui Siu Huang
Sammy Leung
Lu Yi
Lam Suet
Xie Na

Director:
Wong Jing

Audio Tracks:
DTS-HD Master Audio 7.1, Dolby Digital 5.1

Languages:
Cantonese, Mandarin

Subtitles:
English, Traditional Chinese, Simplified Chinese

Running Time:
98 minutes

Distributor:
Mei Ah Entertainment (HK)

Release Date:
22 June 2010

Synopsis:

A group of killers are now targeting Kwan, a participant of the Miss Chinese beauty pageant, who is the beloved daughter of an important deponent in a crime case under investigation. In order to get the deponent to testify in court, the police force promises to send an undercover agent to enter the contest for the protection of Kwan. Unfortunately, the search uncovers no suitable candidate other than a bumbling newcomer, Charlene, the only daughter of Sergeant CHUNG. Reluctantly, CHUNG agrees to let her join the team working the case, provided that another top officer Donnie and he joining in to be the undercover for Charlene's safety...
More items to consider...