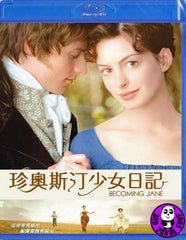 Region Coding: Region A (Locked)

Starring: 
Anne Hathaway
Jame McAvoy
Julie Walters
Maggie Smith
James Cromwell

Director:
Julian Jarrold

Languages: 
English

Subtitles:


English, Traditional Chinese

Running Time:
120 minutes

Distributor:
CN Entertainment

Release Date:
21 Sep 2010

Synopsis:
With Pride and Prejudice, Sense and Sensibility and Emma having been adapted for both the TV and movie screen many times, a portrayal of Jane Austen herself is long overdue. Becoming Jane is the untold story of a young Jane Austen in love. Based on Jon Spence's book Becoming Jane Austen, it portrays a youthful love affair that inspires the writer's celebrated romantic novels. When the 20 year-old Austen meets the intelligent, roguish and arrogant young lawyer Tom Lefroy, the sparks fly immediately. Like the dynamics between Elizabeth Bennett and Mr. Darcy in Austen's masterpiece Pride and Prejudice, they engage in a battle of wits and wordplay before falling madly in love.

The gorgeous Anne Hathaway (The Devil Wears Prada) ignites the screen as a delightful Jane who is unafraid to defy social convention to become a writer. Her excellent on-screen chemistry with the charming James McAvoy (The Last King of Scotland) is framed by an outstanding cast including Julie Walters, James Cromwell, Maggie Smith and the late Ian Richardson.
More items to consider...