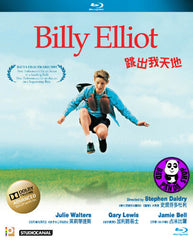 Region Coding: Region A (Locked)

Starring:
Julie Walters
Jamie Bell
Gary Lewis
Stuart Wells
Jamie Draven
Jean Heywood
Mike Elliot

Director:
Stephen Daldry

Audio Tracks: 
Dolby Digital EX, THX Surround EX

Languages: 
English

Subtitles:
English, Traditional Chinese, Simplified Chinese

Running Time: 
113 minutes

Distributor:
Panorama (HK)

Release Date:
22 March 2013

Synopsis:
The life of coal miner's son in Nortern England is forever changed on day when he stumbles upon a ballet class on his way to boxing lessons. Joining the class, but keeping it a secret from his widowed father and overbearing brother, 11-year old Billy (Jamie Bell) shows a raw talent that dancing instructor, Mrs. Wilkinson (Julie Walters) immediately recognizes. She encourages him to try out for the Royal Ballet School in London but Billy is torn between his responsibility to his family and his overwhelming desire to pursue his passion for dance. Jamie Bell, Julie Walters and Gary Lewis all deliver outstanding performances in this uplifting and inspiring story that has become the year's most acclaimed film. Billy is simply brilliant!

More items to consider...