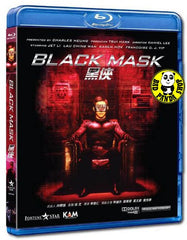 Region Coding: Region A (Locked)

Starring: 
Jet Li
Karen Mok
Lau Ching Wan
Anthony Wong
Francoise Yip
Director: 
Tsui Hark

Audio Tracks: 
Dolby TureHD 7.1
Dolby Digital 6.1
DTS-ES 6.1

Languages: 
Cantonese, Mandarin

Subtitles: 
English, Traditional Chinese

Running Time: 
99 minutes

Distributor:
Kam and Ronson

Release Date:
03 Mar 2011

Synopsis:
Jet Li stars in this futuristic techno-action thriller based on a popular Hong Kong comic book. Li was part of "Squad 701", a team of professional killers known as Black Mask, who do not feel pain or emotions. When the team was "exterminated" by the government after they discovered that some squad members are still capable of feelings, Li goes into hiding as a librarian. However, when another member of the Squad begins killing every major drug marketer, Li has to don the identity of Black Mask once again...
More items to consider...