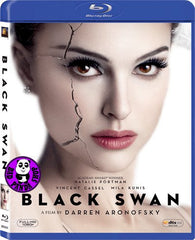 Region Coding: Region A (Locked)

Starring: 
Natalie Portman
Vincent Cassel
Mila Kunis
Barbara Hershey
Winona Ryder

Director:
Darren Aronofsky

Audio Tracks: 
English DTS-HD Master Audio 5.1
German DTS 5.1
Dolby Digital 5.1 (Spanish, Portuguese)



Subtitles:


English, Traditional Chinese 繁體中文字幕, Spanish, German, Portuguese, Italian , Danish, Finnish, Norwegian, Swedish, Greek, Dutch, Romanian, Turkish



Running Time: 
108 minutes

Distributor:
Fox / Intercontinental Video Limited

Release Date:
13 May 2011

Synopsis:

Starring Oscar winner Natalie Portman and directed by Darren Aronofsky, this is a provocative psychological thriller. Nina, a stunningly talented but dangerously unstable ballerina is on the verge of stardom. Pushed to the breaking point by her driven artistic director (Vincent Cassel) and the threat posed by a seductive rival dancer (Mila Kunis), Nina's tenuous grip on reality starts to slip away. As the pressure builds, Nina's all-consuming obsessions spins out of control, plunging her into a waking nightmare that will threaten not only her sanity, but her life.


單純、沉靜、默默耕耘的芭蕾舞蹈員妮娜一直在母親過份溺愛的庇蔭下成長,人生唯一目標就是成為一位崇高的職業舞者。

一天,舞團總監湯馬士為新一季【天鵝湖】挑選新主角,消息一出妮娜等多位舞蹈員躍躍欲試,然而導演只對妮娜的美色虎視瞻瞻,一己私慾竟然漠視其他團員實力,高調地欽點她飾演女主角。湯馬士相當急進,對妮娜的要求很高,要她對劇中對立角色黑天鵝也迎刃有餘,不斷用難堪的激將法鞭策和教導,令她心力交瘁。妮娜日以繼夜苦心練舞,卻怎也擺脫不了現實中純真性格,揣摩不到黑天鵝的高傲、狂野、邪惡;加上她對湯馬士的攻勢欲迎還拒,結果被對方每天惡意批評。與此同時,團內勁敵莉莉猜心挑釁似要搶奪主角寶座。壓力面臨爆煲的妮娜,發現自己開始陷入精神分裂;為了演活黑天鵝,她竟孤注一擲,把這份心理狀態融入角色之中,挖掘出自己內心潛在的陰暗面,一發不可收拾……
More items to consider...