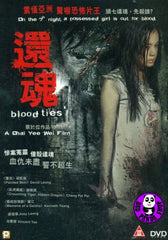 Region Coding: Region Free
Starring: 
Kenneth Tsang
Cheng Pei Pei
Joey Leong
David Leong

Audio Tracks: 
Dolby Digital 2.0

Languages: 
Original Soundtrack

Subtitles: 
English, Traditional Chinese

Running Time: 
96 minutes

Distributor:
Panorama HK Distributions

Release Date:
12 Aug 2011

Synopsis:


On the 7th night of his death, Shun's spirit returns to possess his little sister Qing to exact revenge on those who brutally murdered him and his beloved wife. This is a thriller set in a supernatural context, with characters caught in a web of love, betrayal, and revenge. This tale of vengeance ...



More items to consider...