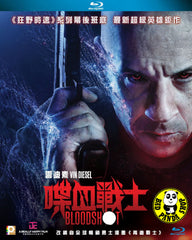 Region Coding: Region A (Locked)

Starring:
Vin Diesel
Eiza Gonzalez
Sam Heughan
Toby Kebbell
Guy Pearce
Talulah Riley

Director:
David S. F. Wilson

Audio Tracks:  
Dolby Atmos, Dolby TrueHD Advanced 96k upsampling

Language:  
English

Subtitles:
English, Traditional Chinese 繁體中文字幕

Running Time:  
110 minutes

Distributor: 
Panorama (HK)

Release Date: 
19 June 2020

Synopsis: 
Based on the bestselling comic book, Vin Diesel stars as Ray Garrison, a soldier recently killed in action and brought back to life as the superhero Bloodshot by the RST corporation. With an army of nanotechnology in his veins, he's an unstoppable force –stronger than ever and able to heal instantly. But in controlling his body, the company has sway over his mind and memories, too. Now, Ray doesn't know what's real and what's not – but he's on a mission to find out.


全球暢銷勇士漫畫改編,《狂野時速》系列金牌製作班底,雲迪素首次飾演再造人戰士。美軍反恐精英戰將雷基域臣(雲迪素 飾)殺敵無數,卻因為一次行動遭突襲不幸命送沙場。神秘軍事組織RST將阿雷復活,清洗並重塑所有記憶,全身細胞改成納米戰甲,更擁有自癒能力,成為組織的終極武器。難辨真實及幻覺的阿雷最終決定脫離組織,再披戰甲以暴制暴,借助「不死之軀」去了解箇中的陰謀……


movie trailer (Chinese subtitled)
More items to consider...