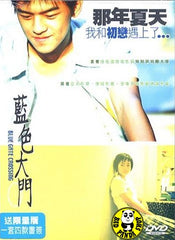 Region Coding: Region 3 (Locked)

Starring:  
Wilson Chen, Guey Lun Mei

Director:
Yee Chih Yen

Audio Tracks: 
Dolby Digital

Languages: 
Mandarin

Subtitles: 
English, Traditional Chinese

Running Time: 
84 minutes

Distributor:
Edko Films

Release Date:
25 Sep 2003

Synopsis:


A story about being seventeen, high school and first love. Shihao is a blithe and guileless teenager. He has two dearest wishes: to win the swimming championship and the heart of his dream-girl, Kerou. One day, Kerou decides to unburden her little secret, which Shihao is utterly unprepared for...Maybe, some days later, they will meet again, in front of the blue gate.
More items to consider...