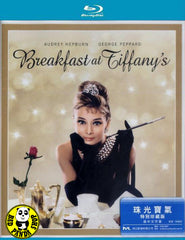 Region Coding: Region A (Locked)

Starring:
Audrey Hepburn
George Peppard
Martin Balsam
Buddy Ebsen
Patricia Neal

Director:
Blake Edwards

Audio Tracks: 
Dolby TrueHD, Dolby Digital 5.1

Languages: 
English, Japanese, Russian

Subtitles:
English, Traditional Chinese, Japanese, Korean, Bahasa (Malaysia), Thai, Bahasa (Indonesia), Portuguese, Greek, Arabic, Bulgarian, Croatian, Czech, Hebrew, Hindi, Hungarian, Icelandic, Polish, Romanian, Turkish, Slovak, Latvian, Russian, Slovene, Ukrainian, Serbian, Lithuanian

Running Time: 
115 minutes

Distributor:
Paramount / Intercontinental Videos Limited

Release Date:
30 Aug 2011

Synopsis:
From the opening strains of Henry Mancini and Johnny Mercer's haunting, Oscar-winning song "Moon River," you'll once again be under the alluring spell of that madcap, carefree New York playgirl known as Holly Golightly (Audrey Hepburn) in this 24-carat romantic comedy based on Truman Capote's best-selling novella. George Peppard is the struggling and "sponsored" young writer who finds himself swept into Holly's dizzying, delightfully unstructured lifestyle as she determinedly scours Manhattan for a suitable millionaire to marry.

The sparkling special features on this Anniversary Edition DVD only add to the luster of director Blake Edwards' timeless film classic.

Patricia Neal, Buddy Ebsen, Martin Balsam and Mickey Rooney co-star; Mancini won an additional Academy Award for his enthralling musical score.

More items to consider...