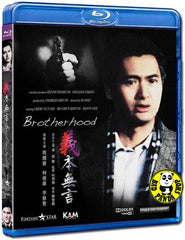 Region Coding: Region A (Locked)
Starring: 
Chow Yun Fat 周潤發
Danny Lee 李修賢
Ke Jun Hsung 柯俊雄
Shing Fui On 成奎安
Lam Wai
Shum Wai
Dick Wei
Sally Cui Xiu Li
Fang Gang
Chen Guo Xin

Director: 

Billy Chen


Audio Tracks: 
Dolby TrueHD 7.1, Dolby Digital EX 6.1, THX Surround EX

Languages: 
Cantonese, Mandarin

Subtitles: 
English, Traditional Chinese

Running Time: 
94 minutes
Distributor:
Kam & Ronson Enterprises Co., Ltd.

Release Date:
30 Sept 2011

Synopsis:
Ho Chun-Tung is godfather of a underworld clan in the 70's. During a visit to a Vietnamese refugee camp, he is seriously wounded and his daughter killed by professional killers hired by his rivals. Fortunately he is saved by a young refugee Wong Han. From then on, Wang becomes a close associate with Ho.
A decade later. Ho decides to withdraw from the underworld gradually. But Police Inspector Mak arrests Ho's three most long serving deputies - Bill, Campo and Ho. In order to avoid severe, they testify against Ho admitting that he is the mastermind behind the whole crime syndicate. Ho is absolutely furious to be betrayed by them.
Wang decides to get rid of these traitors to save Ho. He successfully eliminates the three but himself is badly wounded as well. Ho's trial has to be dropped due to insufficient evidence. however, Inspector Mak persists to pursue further investigation against Ho....
More items to consider...