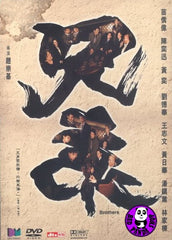 Region Coding: Region 3 (Locked)

Starring: 
Michael Miu 苗僑偉
Eason Chan 陳奕迅
Andy Lau 劉德華
Felix Wong 黃日華
Ken Tong 湯鎮業

Audio Tracks: 
DTS-ES 6.1
Dolby Digital 6.1 EX
THX Surround

Languages: 
Cantonese, Mandarin

Subtitles: 
English, Traditional Chinese

Running Time: 
104 minutes

Distributor:
Deltamac

Release Date:
06 Dec 2007

Synopsis:


An intense drama on the portrayal of brotherhood. Brothers depicts the mistrust and feud between two brothers through the eyes of an investigating police officer. Despite their close relationship, Yiu and Shun were separated at a young age due to a decision made by their father. Years later they meet again when the family runs into crisis where Yiu, inspired by his father's last words, manipulates a series of setups which endangers Shun's life, so as to achieve his goal...
More items to consider...