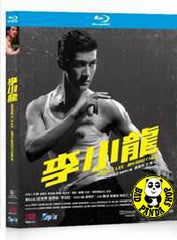 Region Coding:
Region A (Locked)

Starring: 
Aarif Lee 李治廷
Tony Leung Ka Fai 梁家輝
Christy Chung 鍾麗緹
Michelle Ye 葉璇
Wilfred Lau 劉浩龍
Jennifer Tse 謝婷婷
Hanjin Tan
Gong Mi
Zhang Yi Shan
Director: 

Man Chuen 文雋
Yip Wai Man 葉偉民

Producer: 
Man Chuen 文雋

Audio Tracks: 
Dolby TrueHD 7.1, Dolby Digital 5.1

Language: 
Cantonese, Mandarin

Subtitles: 
English, Traditional Chinese, Simplified Chinese

Running Time: 
130 minutes
Distributor:
Mega Star (HK)

Release Date:
10 Jan 2011

Synopsis:
Bruce Lee, My Brother is a dramatic biopic of the eponymous martial arts legend as told by his younger brother, Robert Lee. It revolves around Bruce Lee's life as a rebellious adolescent in Hong Kong until he sets off for the USA and conquers the world at the age of 18 with only US$100 in his pocket. His father, a popular Cantonese opera singer who used to tour around the world with his family, Bruce Lee was born in San Francisco in 1940 during their US stop. The Lee family moves back to Hong Kong just months before the invasion in China and goes through the horrid 3 years and 8 months of Japanese occupation in Hong Kong.
More items to consider...