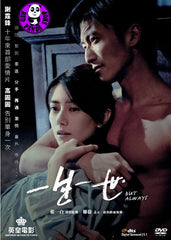 Region Coding: Region 3 (Locked)

Starring:
Nicholas Tse
Gao Yuan Yuan
Jack Kao
Tong Da Wei
Lam Suet
Du Hai Tao
Qin Hao
Alice Li

Director:
Zou Xian

Audio Tracks: 
Dolby Digitial 5.1, DTS Digital Surround

Language: 
Mandarin

Subtitles:
English, Traditional Chinese, Simplified Chinese

Running Time: 
- minutes (TBA)

Distributor:
CN Entertainment Ltd. (HK)

Release Date:
23 Oct 2014

Synopsis:
A snapshot of young love in the 1970s: two school friends, growing up in Beijing, both with different backgrounds and different families. As time progresses their relationship grows and so too do their families. Separated, they lose touch, only to rekindle the romance in New York City, but now having to face the fact that they both have established lives and established loves. Nicholas Tse and Gao Yuanyuan star in this intimate and moving portrayal of two people falling in love again after being separated by time and distance and deciding whether their present love or a future love will triumph.


movie trailer (English subtitle)

More items to consider...